The Ghostship Mathematica
The Ghostship Mathematica is a three part story I wrote for 2000AD about space pirates, the search for Earth and a young alien stowaway called Marble Jones. Published this month (in issues 1827 – 1829) it features absolutely gorgeous art by Inaki Miranda and the eye-watering colours of Eva De La Cruz.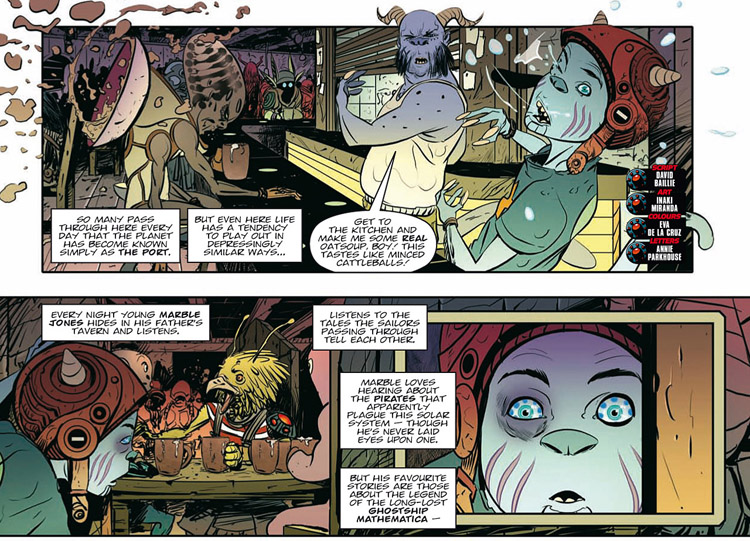 Since I posted the script for the first episode online a couple of weeks ago (here) it's been downloaded over a thousand times.
The story seems to have gone down really well with both fans and reviewers and so I knocked together this page to have a place for all the glowing reviews.
But in the meantime, Inaki can be found at his website – inakimiranda.com – and his blog - inakimiranda.blogspot.co.uk
And I can be
The Glowing Reviews
"I liked this, liked it a lot... It's really well done, has a lovely feel, nice pace, with that subtle mix of despairing child and idealistic adventurer coming through in Marble Jone's thoughts and words."
"Little things done right – ageing without needed to reference it... I actually get the impression Baillie has something thoughtful and open-ended for this, but two thirds down, it's been epic of scale with a philosophers edge to it."
"Baillie and Miranda have managed to spin out a tale of generations, a life-long quest to discover and return the fabled Ghostship Mathematica, final resting place of humanity. And the finest compliment I can give it is that it's always felt epic in scale, with a pacing that belies the brevity of that page count."
"It's very rare for a story to grab me from the first episode - I normally need two or three parts before I begin to feel invested in the characters and their universe. However, it is a testament to David Baillie's writing that I found myself completely involved with this story from the third or fourth page - the imaginative creatures (amazingly designed by Inaki Miranda) and the sense of fun and adventure from this space-pirate tale really hit me hard, to the point where I was a little disheartened that this would only be a three-part adventure!"
"I'm not sure where it can go next, which is fantastic as I have no preconceptions on how this story should end! More like this please, Tharg!"
"This is my favourite panel of the week. Our first shot of the Ghostship Mathematica. It's a really atmospheric scene, beautifully rendered by Miranda's artwork and coloured by Eva De La Cruz. And it's also very reminscent of the famous shot from Alien (1979) where we see crew from the Nostromo approaching the derelict ship on LV-426. Awesome stuff."
"Tharg's 3rillers (The Ghostship Mathematica Part 1) was an absolute joy to read!"
"Tharg's 3riller (The Ghostship Mathematica Part 2) was also barnstormingly good….and the last few panels were tense with an unexpected development which has got me intrigued, how will it fare for our space faring pirates? I hope to grud the final episode ends on an optimistic note as i've nothing but love for this strip and have absolutely taken to it. And I must say Inaki Miranda's artwork is a delight to behold. I'll be saddened to see it end next week…"
"After this there's more from Tharg's 3rillers. David Baillie continues to offer a fantastic story and script. The pacing is excellent, skipping all the boring bits that would bog down other issues. Its a small time jump, but the writing is fluid enough to easily pick up. Likewise, Inaki Miranda once again offers a detailed depiction of the wonderful setting, brought to life with Eva De La Cruz's colors."
What the fans think...
Reviews of Part One on the 2000AD Forum
"Absolutely loved this. It's a really fun adventure strip and the art is brilliant."
"Love this. As James said, some great design work going on here, especially the young Marble. "
"Enjoyable stuff avoids the pitfalls that a story set like this can fall into and hints of Treasure Island, whats not to like?"
"3riller is a blinding opening, so much ground covered and its bloody entertaining, well drawn ground to boot(y), fantastic."
"The stand out strip for me is undoubtedly the 3riller, a great exposition with plenty of action crammed into a few short pages. Perfect pacing for a three parter and breathtaking art from Inaki Miranda whose work I'm really hoping to see much more of in the prog. "
"My favourite story of the Prog this week"
"the Thrillers tale is just so good I can hardly praise it enough. Will have to steel myself to wait for the next episode."
Reviews of Part Two on the 2000AD Forum
"Then at the head of the Prog we have an almighty head to head for thrill of the week. Two absolutely outstanding thrills. Ghostship Mathematica shows ever 3riller to date how to do it. On its own this would have been a half decent little stand alone. In the context of just the opener last week its just brilliant. Oh and if the Dredd ending was good what about this. The story is going to have a sting in its tale regardless next week. It'll be over all to soon, but if it continues in the way its gone on that will be right and fitting. This is one of my favourite new thrills and I strongly suspect I won't want it back. Mind if it managers to spin itself into a position where a return would work I'll be so chuffed. Its genius."
"The 3riller is just an absolute pleasure to read and I can't wait to see what the conclusion has in store. This story seems to be working as a gorgeous little vignette and I'd rather it was kept that way, don't think it'd benefit from post-3riller prog-time. What I would love is a different full length collaboration by Inaki Miranda and David Bailie."
"3rillers also had a great cliffhanger. My thrill circuits are sizzling with anticipation for the finale next week."
"Ghostship Mathmatica is brilliant stuff too. Absolutely love the art here, and it's hard to believe this is only the second episode as the world has been so convincingly presented. I'll be sorry when it finishes..."
"3riller - Ghostship Mathematica. I am loving this. It's some really good space opera with a touch of mystery crossed slightly with Treasure Island? What did happen to Earth? I like the way the aliens and cyborgs are designed - the captain looks like some kind of metallic eagle-man. There's a sense of wonder about a boy who runs off to sea/space and is taken in by a kindly (at least to the boy) sea/space captain. It has heart."
Reviews of Part Three on the 2000AD Forum (so far...)
"LOVED IT. The art is really brilliant and this has been the best thing in the prog for the last three weeks. I'd really like to see this story continued - I'm sure there's plenty of scope for more stories with these characters."
"Ghostship Mathmatica is once again just genius. It does go kinda the way I expected, though the specifics I hadn't even tried to guess. That means its over and I guess it needs to stay over. That makes me so happy and so sad at the same time. Such bold and imaginative storytelling, executed so well in just 15 pages (I think), telling a complete, self contained story and a final line that puts such a full stop on things that unless there's a stroke of genius to come it doesn't deserve a return. In the best possible sense... though if it'll take a stroke of genius to bring it back successfully, what have David Baille and Inaki Miranda (with Eva De La Cruz, should under estimate how great the colours were and how much they added to the tone and Annie Parkhouse.) just given us if not a stroke of genius, so never say never. "
"A personal highlight was The Ghostship Mathematica. Just such a gorgeous little vignette. I'd said before that I doubted I'd want to see it back, preferring a different Bailie/Miranda collab, but I have to take that back a wee bit, I think it could be done. Wouldn't want to see it forced though, and a different full length tale from the same team would be even better."
"Lovely, lovely story and artwork. I'll remember this one for a long time."
"Thank god for this strip. It has been nothing short of a pleasure to read thanks to David Baillie's tight thrilling script, and art to drool over thanks to Inaki Miranda's delicously drawn work (which is a little reminiscent of Fiona Staples' work on Saga if i may say so). But let's not forget the colours too by Eva De La Cruz, which bring a vibrancy and eye catching beauty to the whole story. The characters and the whole premise is what has totally drawn me in to this particular 3riller... Well done to everyone involved for a beautiful story. "
"This creative pairing is very definitely one to watch"
"What a perfect way to end what has been my favourite 2000AD strip so far. This just ticked all the right boxes for me and I'd love to see if not a real sequel, something else set in the same universe, ideally told by the same wonderful creative team. Just more please, lots."